The FDR/Campobello International Park
The FDR/Campobello International Park is located at:
459 Route 774
Welshpool (Campobello Island), New Brunswick
Canada E5E 1A4
The Park is opens the Saturday just prior to Memorial Day.
In 2013, that is May 25th and they stay open until October 19th.
Hours of Operation are Daily from 10 a.m. to 6 p.m. (Atlantic time).
Telephone: 506-752-2922.
It is always advisable to call first.
The map below shows three areas of green. The light green (at the bottom) shows the area that is jointly owned and maintained by the governments of United States and Canada.
The medium-green area (in the middle) shows the area that is owned and maintained solely by the Provincial Government of New Brunswick.
The darker-green area (toward the top) shows the start of that part of the island that is non-government owned.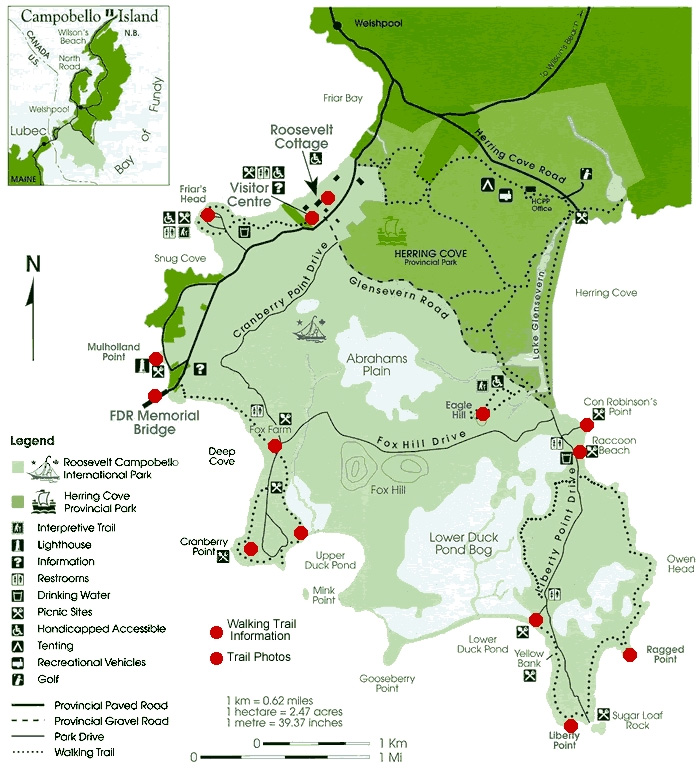 The FDR/Campobello International Park offers self-paced tours of the residence and grounds. No one has yet, organized structured tours to include transportation to and from Campobello, a tour guide and perhaps breakfast, lunch and dinner. This is a missed opportunity and one that we will discuss later on in this document.