Geography
Campobello Island consists of approximately 9,800 acres of land in the Bay of Fundy at the most extreme easternmost tip of the State of Maine in the US.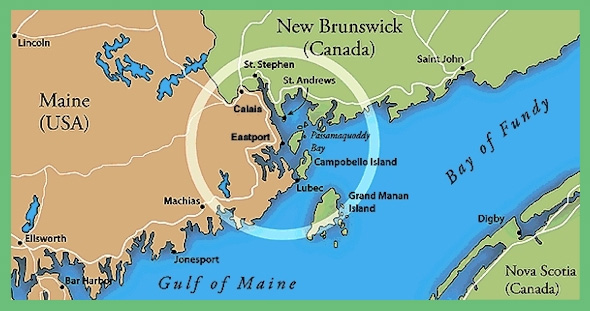 The island measure approximately three (3) miles wide and nine (9) miles long and is situated in a southwest to northeast direction. Campobello Island's only physical geographic connection is to the United States and via the FDR International Bridge at the southwestern most tip of the island.
Most of the western side of the island is tidal while the eastern side of the 0island is cliff lined. Both tidal land and cliffs can be found on the northern and southern exposures.
Elevations range anywhere from zero meters above MSL (Mean Sea Level) in the tidal areas to as much as 80 meters above MSL in others.
As with most islands, it was formed by volcanic activity and as such, the island is made up of a granite base and granite edged cliffs.
Fertile topsoil completely covers the island suggesting that it was formed millions of years ago.
Demographics
Campobello Island's year round population of 1200 is made up almost entirely of Canadian and American Caucasians of modest income. By contrast, the summer population is made up almost entirely of American Caucasians of upper income. The largest segment of the summer population appears to be from the southern part of the United States, which suggests that people are drawn this area to escape the heat and humidity.