Bay Of Fundy International Marathon
The 2nd Annual Bay of Fundy International Marathon, set for Lubec and Campobello Island on June 15th has again been granted status as a qualifying race – this time, for the 2015 Boston Marathon.
Hotel, inn and restaurant owners on the Campobello Island, N.B. and in the town of Lubec, ME and beyond are preparing for the large influx of runners. More than 200 already have signed up for the marathon and its companion 10-kilometer race.The marathon begins at the West Quoddy Lighthouse in Lubec, goes up to the East Quoddy Lighthouse on New Brunswick's Campobello Island, and returns to finish on Lubec's Water Street – crossing the Roosevelt International Bridge and thus the border with New Brunswick twice.
Full details of the race course, go to www.BayOfFundymarathon.com. You may also call 207-619-1887 or 506-752-2183.
There, you can receive up-to-the-minute information including the exact times, route and registration information.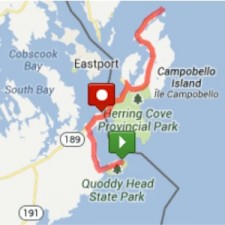 We how to see you and hope that you will come and run with the world's biggest tides in one of North America's quietest and most scenic corners. No big cities and bright lights, ours is a small, community organized cross border Marathon on the shores of the magnificent Bay of Fundy. Start at the easternmost point in the continental USA at West Quoddy Head. Run across the border into Canada on the Roosevelt Memorial Bridge, under which surge some of the world's biggest tides. Run the entire length of Campobello Island, New Brunswick, to turn at its most northerly point – East Quoddy Head. Then run back to finish on the waterfront in the scenic fishing village of Lubec, Maine. See seals, bald eagles, and sometimes whales, while passing four different lighthouses. Our warm welcome will make up for the cool sea breezes from the Bay of Fundy and Labrador current – average race day temperatures are 10-20 degrees Celsius / 50- 70 degrees Fahrenheit, and where else can you enjoy lobster, clams, or salmon on a stick at the Finish line?Our finishers medals are maritime themed and hand crafted by a local artist, as are our awards – 3 deep for both genders in 10 year age groups for both the marathon and the 10K. Every runner gets a regionally made environmentally friendly technical tee shirt woven from recycled plastic bottles, and you get to collect your swag in genuine lobster bait bags (without the bait!). There's a locally prepared and complimentary (for runners) five star pasta supper with home made deserts and live music by the renowned Machias Ukelele Band on Saturday night in Lubec, or a similar outdoor version at the Herring Cove Provincial Park on Campobello Island.We are beginner friendly with water stations less than 2 miles (3.2 kms) apart, plus portapotties every 5 miles / 8 kms, and lots of woods on a scenic rolling course. Walkers are welcome. There are no big hills – the highest point on the course is less than 200 feet / 60 metres above sea level. But, there are lots of little hills and this makes it a particularly challenging course for experienced runners – the total elevation gain of 2,400 feet / 730 metres will catch up with the unwary who go out too fast!There's also plenty to do for family and friends with lighthouses to visit; a craft fair and traditional lobster boil on Saturday; a 5k walk; round town Fun Run; a Finish Line street fair on Sunday; US President Franklin D. Roosevelt's summer home where you can have "Tea with Eleanor"; whale watching cruises; wild Bold Coast trails overlooking the boiling Atlantic swells; or gentler walks in the Roosevelt-Campobello International Park, Quoddy Head State Park, Herring Cove Provincial Park, and others. And of course, visit the lighthouses, including Head Harbour light at the northernmost tip of Campobello Island (turning point for the marathon), and the candy-striped West Quoddy Head light at the most easterly point in the continental USA (starting point for the marathon).But don't forget your passport or other travel documentation. Marathoners must be pre-cleared 2 weeks in advance and then check-in at both borders on Saturday. The good news is that they then get to run through both borders on Sunday without stopping and with the border agents cheering them on!
Full details of the race course, go to www.BayOfFundymarathon.com. You may also call 207-619-1887 or 506-752-2183.