New Years Eve in Eastport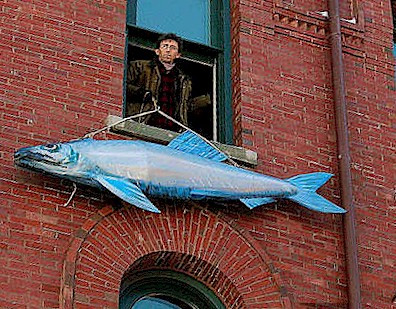 The first sardine cannery in the United States opened in 1875 in Eastport, Maine. So that people don't forget, the residents of Eastport have used New Years Eve to celebrate this fact. The tradition involves an 8-foot wooden and fabric sardine sculpture, which is lowered from the top of the local art museum, right at the stroke of midnight. Hundreds of town folk line up to kiss the fish, signifying their wish for good luck in the upcoming year.
This has always been great fun for Eastporters and so in 2012, they were happy to share their celebration with CNN. Originating from Times Square, CNN would (from time to time), break away to peek into the downtown area of Eastport while their correspondent, Gary Tuchman, would cover the Great Sardine Drop. Unfortunately, the good people of Eastport will probably only remember the mockery that was made of them by the vulgarness of "comedian" Kathy Griffin when she tried to turn their fun into something perverted.
You can read about her sick stunt in a reprint from the Boston Globe in the Appendix.