Traveling to and from Campobello Island
By Air
The three closest commercial airports to Campobello Island are St. Johns in New Brunswick, Bangor ME and Bar Harbor ME. All three airports are about the same amount of drive time to Campobello Island. Bangor Airport has the most scheduled flights and usually costs the least to get to from most locations. Bangor has regularly scheduled, non-stop flights to and from Boston, Detroit, Philadelphia and Atlanta.
Effective November 7, 2007, Allegiant Air will offer non-stop service from Bangor International Airport to Orlando-Sanford International Airport.
There are also two municipal airports nearby for private or chartered aircraft.
Eastport Maine Airport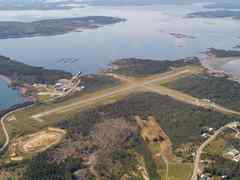 Eastport has a 4,000 feet x 75 feet hard surface runway (15/33), which will accommodate most general aviation aircraft though small jets such as Cessna Citations. From Eastport, getting to Campobello is either by car (55 minutes) or by ferry through Deer Island. There is a NDB (Non-Directional Beacon) on the field. The official Navaid Identifier of the NDB is EPM. The airport identifier code for Eastport is KEPM. Aircraft tie-downs and hanger space are available.
Lubec Maine Airport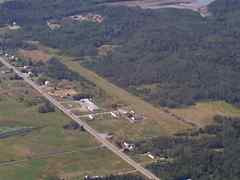 Lubec has a 2,024 feet x 100 feet grass runway, which will accommodate most single engine aircraft and some light twins. Lubec Municipal Airport is approximately 3 miles west of the FDR International Bridge – then entrance to Campobello Island. The closest Navaid is the NDB at Eastport. The airport identifier code for Lubec is 65B. Aircraft tie-downs are available.
By Land
Campobello Island is only an afternoon's drive from many points in northeastern US. It's approximately 6 hours by car from Boston; 2-1/2 hours from Bangor or 2 hours from Bar Harbor. Whether driving from Boston, Bangor or Bar Harbor, the rolling hills reroute make this trip a relaxing experience. In the fall, the trip is almost magical as the leaves begin to turn colors
By Sea
Getting around the Quoddy Loop by water is quite simple once you know the tricks. Deer Island, directly north of Campobello Island, hosts a seasonal ferry service to Campobello Island and to Eastport, Maine. To get to Eastport, Maine you can either cross the FDR International Bridge into Maine or then drive an hour or you can drive your car onto the Ferry to Deer Island. Once on Deer Island, you switch to the Ferries to Eastport. The cost for a car and driver from Campobello to Deer Island is $13. Additional passengers are $2 each. Children, 12 years and younger ride for free. The cost for a car and driver from Deer Island to Eastport is $10. Additional passengers are again $2 each, while children, 12 years and younger still ride for free.
U.S. and Canadian Customs Border Patrol Stations
At each end of the FDR International Bridge is a Customs Border Patrol Station for each country. U.S. or Canadian citizens enjoy easy access to either country with only a Driver's License provided it has a photo. In 2008 passports will be required. At both checkpoints, customs agents usually ask where you were born, where you currently live, the purpose and duration of your trip and whether you are crossing with any alcohol, tobacco, firearms or meat products. They will usually ask you to pop your trunk so that they can take a quick look. Once that's done, you're allowed to pass. It is rare when the line is more that a few minute wait.